The Stay on Your Feet (SOYF) strategy of northeastern Ontario wishes to acknowledge the leadership and exceptional work of our Australian colleagues. In particular, the following initiatives inspired our strategy and helped make it what it is today: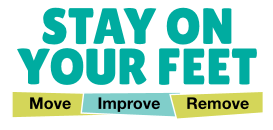 Provided by Injury Matters and funded by the Western Australian Department of Health.
Queensland Stay On Your Feet ®
Helping older Queenslanders stay healthy, active, independent and on their feet.